Dear Fellow Trail Rider,
I (Juanita) grew up on a small family-owned horse ranch in Southern California. The ranch was established by my grandfather who moved to CA in the 1930's from the Corzine Family Cattle Ranch in Sanger, TX where he grew up. I feel that a love for horses & trail riding is in my DNA. I have ridden most of the many local Southern California equestrian parks & trails throughout my life, so be sure to ask me about rides outside of Wine Country as well. SoCal has some amazing riding destinations that are only a 20-40 min. commute from Temecula: Daley Ranch, Santa Margarita Creek, Eagle Rock, Santa Rosa Plateau, the BEACH(*Gorgeous beach riding for miles in Imperial Beach only an hr. commute!), Caspers Park, etc. just to name a few. During high school & college, I trained horses for the Clyde Morris Ranch in nearby Wildomar, CA. Many cowboys, like my grandfather & Clyde, have had an impact on my life. It was while I was a teenager that I fell in love with trail riding in this gorgeous valley. Back then known as Rancho California...now it's called
"Temecula Wine Country!"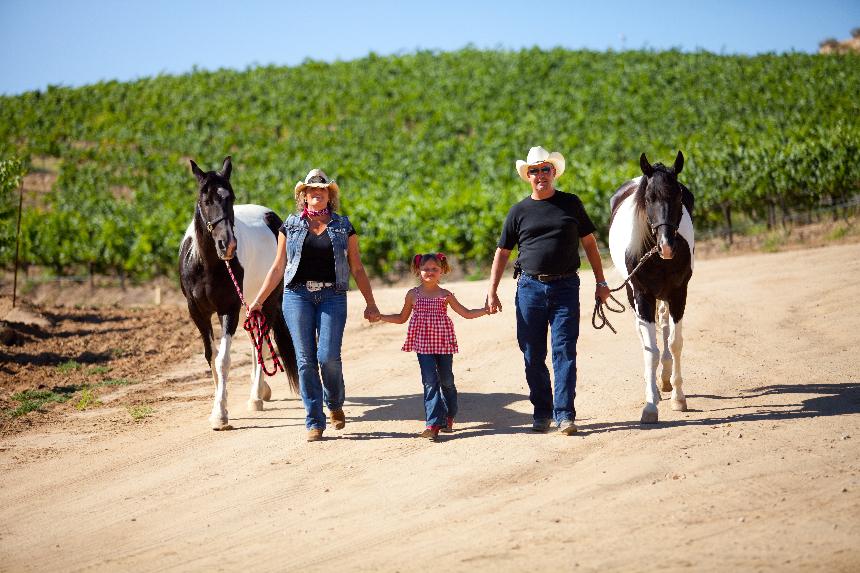 I know that you will be amazed at the beauty of this place! As the lead GIG guide, I am qualified to safely plan your trail ride followed by VIP winery activities. I am the co-founder, lead trail boss & President of the Temecula Eq-Wine Riders, an active member of the Rancho California Horsemen Assoc., the California State Horsemen Assoc. as well as the North American Horsemen Assoc. I am very active in the local trails preservation efforts in Temecula. I also enjoy riding color guard for special events & in our local parades with the "Wine Country Cowgirl Color Guard." Over the years, in addition to successfully trail bossing hundreds of rides, I have volunteered with Handi-Riders, REINS & the Helen Woodward Animal Center's (PET&Riding) programs. All are therapeutic riding programs for disabled children & adults. I believe in the healing power of mind, body & soul that animals possess, most especially... the HORSE! I currently work as a Pediatric Critical Care RN at Rady Children's Hopsital San Diego (in 2013 I received my 20 year service award) I'm CPR/ACLS/PALS certified. Everyone's safety on our GIG rides is of the upmost priority to us we have received the NAHA Safety Award EVERY year since we started our business. Most importantly, I am Scott's wife & mother to our three wonderful kids Jason, Baylee & Jamie Lee.

We have been taking equestrian vacations for years with our extended family & friends, Sedona AZ being our favorite destination. Horse camping is a favorite pastime for us, so we know firsthand the value a service like Gaits In the Grapes (GIG) can offer vacationing riders.
When he's not out riding trails with his family, my husband Scott works as a State Farm Insurance Agent who loves to play league golf, he's also a retired tennis pro. He (Tahoe Nation Name "Journey") along with our daughter Jamie Lee (Tahoe Nation Name "Little Pinto") are active in the Indian Princess Guides YMCA Program. They often take our LQ horse trailer to the camp-outs hauling bikes & firewood in the stalls for the whole tribe of little girls. Scott has often said that what most drew him to riding is the positive effect he has witnessed horses having on the women in his life. You gotta love that attitude in a cowboy. Thank you Honey for supporting me as I "live my dream" with GIG.

I share your passion for riding, so join me today..."Let's Ride!" Do you belong to a Wine Club yet? Let us plan a different trail ride for you EVERY time you pick up your Wine Club Package.
We Wish You Safe Travels & Trails!

Horse Camping with my Cowgirl Posse in Sedona, AZ-2016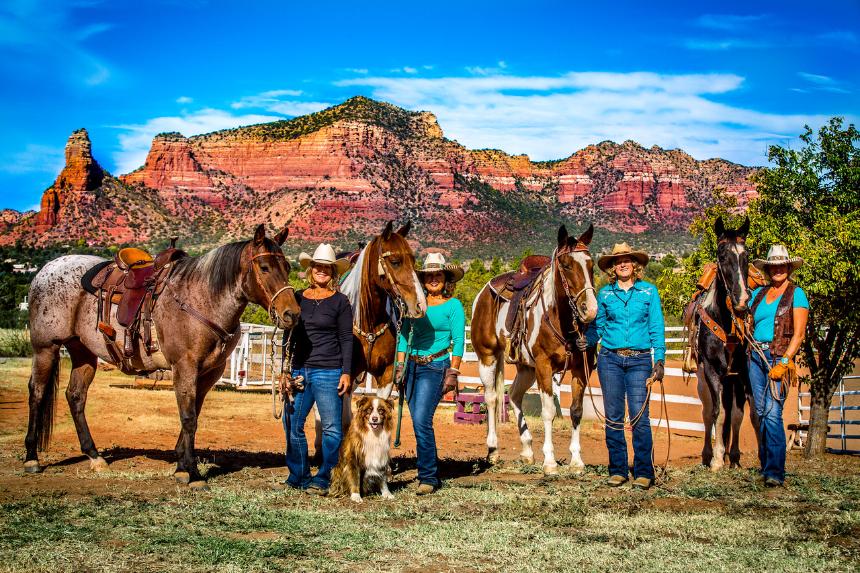 "My goal is to deliver a CUSTOMIZED, SAFE & FUN "VIPEq-Wine Escape," that will surely make our Temecula Wine Country a repeat vacation destination for you, your Saddle Pals & beloved HORSES." Juanita Koth, Gaits In the Grapes Lead Guide & Owner

Code of Ethics
Dedicated Members of the North American Horsemen Association Strive To:
Appreciate and promote the natural splendor of the horse, all equine species and breeds;
Regard and promote harmony and balance between horse, mankind and the natural world;
Promote human experience, enjoyment and need for the horse;
Safeguard the welfare and humane treatment of horses;
Respect the welfare, safety and property of other people;
Support and subscribe to the risk reduction standards of the North American Horsemen Association.