BE SURE TO CHECK OUT OUR FACEBOOK PAGE WHERE MANY 5 STAR REVIEWS ARE POSTED ALONG WITH OUR MOST RECENT RIDE PHOTOS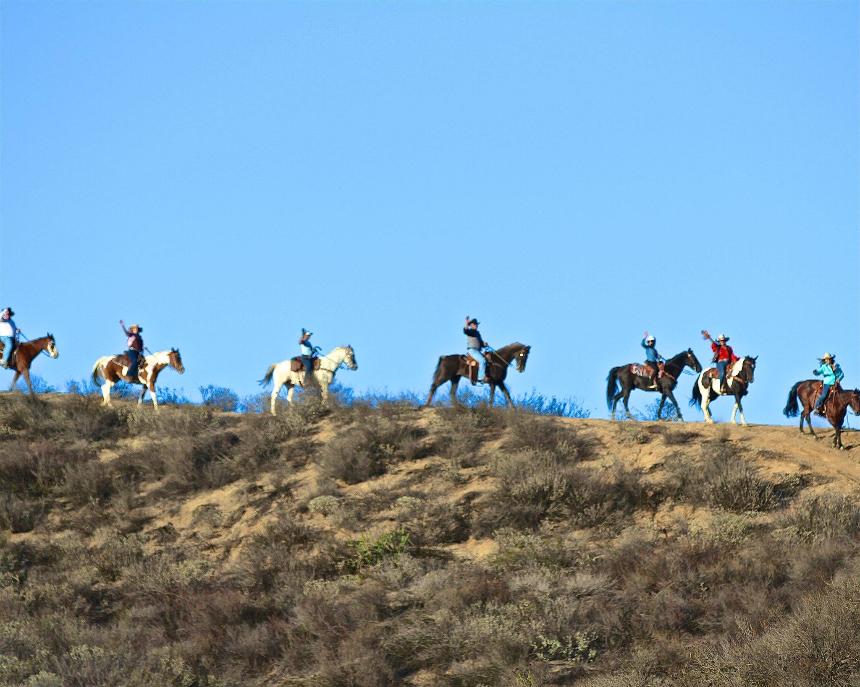 Comments straight from the "Horse's Mouth!"
Great Experience! Juanita is friendly and super informative, it made our long day in Temecula's Wine Country one of the best trail rides I've had! We never went faster or did more than our least experienced rider could handle and she was very in tune as to what that pace should be! Juanita shared so much of Temecula's history with us, this is such a beautiful place. Thanks for an amazing day Juanita, ! I LOVED riding with Gaits In The Grapes!!
Debra Varney, Equestrian Eventer & Owner Debra's Equine Massage
Juanita and Scott treated us like family on our Sunday ride through the Temecula vineyards! They know the area, the history and are passionate about keeping Temecula open to equestrians! They help create the excitement and fun that makes us want to come back and enjoy more of what Temecula has to offer.
Thank you Again! Terri Polley, Arabian Performance Horse Assoc.
Juanita, I'm writing to let you know what a wonderful time John and I had riding with you this past Monday. We really didn't know much about the Temecula Wine Country, but thanks to you, we do now! Thanks for your most informative introduction!!! You are a great trail guide and we appreciated so much your kind consideration and thoughtfulness for not only us, but our horses also. You thought of absolutely everything! After our wonderful ride, we enjoyed wine tasting and a relaxing picnic lunch at Wilson Creek Winery. It was a perfect day, one we will be talking about for awhile and telling all our friends about. Thank you again, Juanita, for all you did to make our ride a memorable event!!
With Much Appreciation, John and Cyndy Brown from Lake Arrowhead

I have to tell you Juanita, we all had a fun ride! I had been wanting to go on one of your rides ever since you started this "Gaits in the Grapes" trail rides
...
thru the vineyards and up on the ridges. I wanted to take Julie and Bobbiann, who ride for me, along with a couple of our friends, Rod and Jill, to just have a fun ride and a relaxed day . We did both, had fun and truly enjoyed you and your friend taking us for a ride thru the grapes and up to the beautiful views Temecula has to offer. Your information about the vineyards, wine making and history of the area added even more Value to the ride, it was a fun experience that I would recommend to any horse owner! Well worth the money. The wonderful lunch and wine tasting at Leoness Cellars Winery was a blast, a perfect ending to a fun- filled day with friends and our beautiful horses!!
Sincerely,
Hope Adams
www.gaitedhorserus.com
AA Ranch, Anza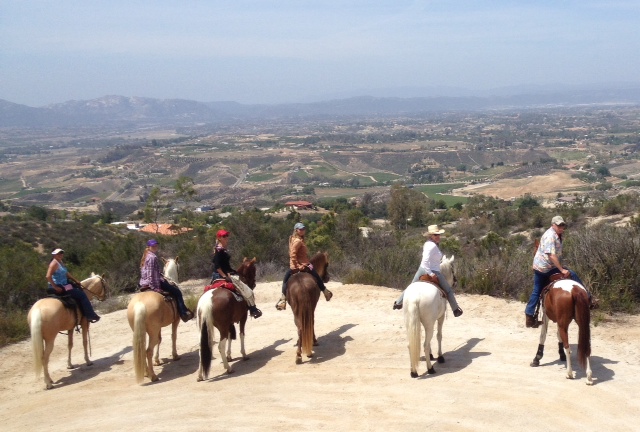 Just couldn't wait to write you and tell you how much my friend and I enjoyed our ride with you on Sunday. I'm a physician in the San Diego area and I really appreciate "safe" rides and was so impressed with your knowledge, horsemanship, and attention to safety. To say it was a beautiful trail ride is an understatement. It was gorgeous!! I really liked the combination of riding on well groomed trails and through a community with beautiful homes and horse property. Then to end it with wine tasting. It doesn't get any better than that! Good luck on protecting the trails of Temecula. All horse people need to join you in that effort!! Thanks again!

Pat Deckert MD


Yesterday I had a great experience exploring Temecula Wine Country from the back of my horse. We had a rare opportunity to ride throughout Galway Downs which was so cool. We took the horses on the racetrack which was amazing, saw the massive cross country course (I'd rather try going under the jumps than over them), saw the polo ponies, etc. To ride through a facility like that with all the action

...

and horses and people was a great experience. The fact that all the riders and horses in our group did so well was a real bonus! We rode through breeding farms and saw all the babies. Rode along side a paddock filled with excited yearlings with them running and bucking, so cute. We also saw some of the most incredible ranches one could ever dream of. The grounds and barns and everything were literally money is no object kind of places. Our guide, "Gaits In the Grapes" Guided Trail Rides: Temecula Wine Country California took the worry of where to go and made it a relaxing time.
Amie Kinne, Riverside County Regional Park & Open Space District Advisory Commissioner


I have ridden with Juanita, owner of "Gaits In The Grapes" a number of times in the Temecula Wine Country. She organizes and leads a great ride; the rides have always been fun and the lunches at the wineries super. I definitely recommend her and GIG for an enjoyable time!
Steve Smith, Former President of the Santa Rosa Plateau Riding Club
My husband and I recently rode the Wine Country trails with Gaits In the Grapes Guide & Outfitter. At about 10am we met Juanita and Scott at Leoness Winery. Juanita had designated a safe area for us to park our truck and trailer with plenty of room. She'd set out parking and safety signage along with cones, so that our vehicles would not be blocked by other visitor's parking too near the horses upon our return. The trail was beautiful; we went through the vineyards and saw amazing wild flowers all along the countryside. We rode up to the top of a plateau which overlooked the entire De Portola Valley and Valley of the Horses. The trail was safe and well maintained. Our horses were so happy to be on this trail my horse seemed to be saying, "Finally! A REAL trail ride!" The whole time I felt safe and I enjoyed the laid back conversation. Juanita is an awesome guide and really knows the area and its history, horses and how to have fun!
Marika and Mark Matson, Temecula Carriage Company
I am proud to have Mark's endorsement: AQHA/NRCHA Judge & 2012, 2017 Project Cowboy Champion!
My husband and I moved to Temecula from New Mexico in June 2012 with our 4 Paso Finos. We heard of trail riding in the vineyards but had no clue where we were allowed to go or even where to start. Fortunately for us we met Juanita and Scott. They took us on a wonderful trail ride through several wineries and showed us many different trails in our "neighborhood". Juanita is quite the equestrian!
Frietze & Dave Williams, New Temecula Wine Country Residents
I rode with Juanita for the first time the other day. I was pleased to find that she was not only a very capable rider, but that she has a keen situational awareness. This keen sense of awareness shows thoughtfulness and consideration of the other riders and their horses. This trait was apparent throughout the ride. Her horse also had a good mindset which always helps the rest of the herd. Juanita kept the herd together by not walking out way ahead, she patiently waited on horses that needed more time to have a look at something they had never seen before. She was also quick to think on her feet and came up with an alternate trail when boom trucks were trimming trees at the horse crossing.
I was glad to see the way Juanita handled everything. It's wonderful to be able to ride through wine country, no doubt. The thing most people don't realize is that these are working vineyards and that Temecula is made up of a network of trails. Sure you will ride through vineyards, and trails along the nearby hills but there are service roads and horse crossings, too. As a visitor on horseback, you need to take these things into consideration. The vineyards may have tractors, the hills may have quail coveys and the roads will have traffic. Fortunately, Juanita knows many ways to get you to the different wineries without taking you down the main routes such as Rancho California and De Portola. While you will come up on these roads, you probably won't be there for very long and from what I saw, it was only to cross when needed. How else are you going to get from Leonesse to Wilson Creek?
If you're planning a trip to Temecula's wine country or have just recently moved here or are considering moving here with your horses and want to know where to go by horseback, I suggest you reach out to Juanita and plan on hauling over for a ride. She will not only show you the trails and educate you as to where they are, she will also provide you with the information as to which wineries are horse friendly and where the hitching racks are at each. Juanita is happy to also arrange educational tours of the wineries or just simply take time for lunch as we did. What a great way to spend the day! Thank you!
Beth Good, PrimeHorseProperty.com
I am writing on behalf of Juanita Koth and her application for insurance to launch her new business, "Gaits In the Grapes".

I have known Juanita for many years, in the context of work we have collaborated on to preserve and maintain equestrian trails in the Temecula Valley.

I am currently a member of the Board of Directors of the Rancho California Horsemen's Association, a 42 year old local organization.
I know Juanita to be passionate about horses, riding, and the wonderful social aspects of group trailriding.

She is a very accomplished horsewoman, who leads her group with the utmost attention to safety.

Indeed, she helps lead the broader community in thinking about ways to make trailriding safer for all – equines, riders, and property owners alike.

With her professional status as an RN, she brings an additional level of expertise to the concept of safety on the trails.
I believe her concept of providing a guide service for visiting horsepeople is a very sound one.

She intends to deal with experienced horse owners to whom she will lend her knowledge of where to ride for ultimate safety as well as enjoyment.

Although she is just launching this service as a commercial venture, she has been providing such guiding for many visiting riders, with more than satisfactory outcomes.

I hope you will see fit to provide her the insurance coverage she needs to get the new business up and running.
Lorraine Harrington, Rancho California Horsemen's Association

I am writing this review on behalf of Juanita Koth, Gaits In the Grapes Lead Guide. I am very impressed with her organizational capabilities, her horsemanship, and her leadership talents. She is an accomplished horse woman. I believe she will be very successful with her new venture because she lives in the Wine Country, she knows the trails, and knows how to show her guests a good time. Organizing rides and making sure that people are enjoying themselves is her forte. I wish her well with the new business.
Ted Wortman
, Former President RCHA
I know that for a few years now you've talked about the need for someone who knows the area well to assist folks in navigating to the wineries, here in "Wine and Horse Country." Congratulations!!! I'm glad you've stepped up to do just that. I can't think of anyone who knows the trails better, is more capable or who could show people a better time than you. Gosh, you'd even be able to ride out from your ranch and come back for a dip in the pool. How perfect!! I wish you the best...because you are...the best!!
Silver Stapleton, Riverside County Sheriff Posse
I have been trail riding with Juanita Koth on several occasions over the years and she has impressed me with her dedication to detailed planning and safety. She is also an RN and it is a comfort to know that she has necessary skills if there were an injury. Juanita knows all the wine country trails and can show you wonderful trails throughout the vineyards. She can also guide you to trails up in the hills with amazing views of vineyards, Vail Lake and the Temecula Valley.
Elin Motherhead, Trail ride planner for the Riding Club on the Santa Rosa Plateau
Juanita and I met years ago while standing in line at a local Starbucks where I was admiring her cute boots! We have been riding the trails of Wine Country together ever since. In fact, before the Koths moved to the Gaits In the Grapes Ranch in Wine Country they boarded their horses at my Ranch, The Rocking H Family Ranch, also located in Temecula Wine Country. It was while riding together that Juanita and I came up with the idea to start a riding club co-founding the well known, Temecula Eq-Wine Riders! I highly recommend Juanita and Scott Koth to guide your trail rides thru Temecula Wine Country. They are knowledgeable horsemen, well prepared, dependable and fun loving folks. I know that they will customize your ride to fit your needs and ability. So... get ready for a FABULOUS Wine Country adventure with the Gaits In the Grapes team!
Kerry Hoffmans, South Coast Winery Resort and Spa
I have known Juanita Koth for several years now as a trail riding buddy. She is extremely knowledgeable about all the wine country trails and has worked alongside many others in the Equestrian Community to develop, protect and preserve them. Juanita has been instrumental in talking and working with vineyard owners for years regarding winery visits on horseback. She and Scott have been involved in the fundraising for and installation of many of the hitching posts, signage, trail maintenance and planning of the trails. Juanita has put countless hours of work into the Wine Country horse community through her invovlvement with local riding groups. Recently, I saw her speak to the Wine Country Planning Commission at a City Hall hearing in favor of keeping horse trails in Wine Country. The Koths are great fun to ride with and you will really enjoy the trail rides they can take you and your group on. You can rest assured that every detail of your ride will be taken care of. Juanita is very organized and will always put safety first! I would highly recommend "Gaits In the Grapes" to any trail rider or group of riders that want to enjoy a great day in Wine Country on horseback!
Lita M. Tabish, Owner Rancho Rosenhill, Fallbrook CA/ CTFMA (California Thoroughbred Farm Managers Association)
North County Times July 25,2012 Dave Downey wrote: Juanita Koth of Wine Country, an avid equestrian, said it will be crucial to come through on a promise to develop a trail system for horse riders, in conjunction with the winery expansion. http://www.nctimes.com/news/local/swcounty/region-pack-first-wine-country-plan-hearing/article_6a462f8f-1a30-541e-8657-2cc044317480.html
So, as a horse owner, have you ever wanted to blaze new trails? Okay, blaze new trails and have great wine after the ride? Well, our friend Juanita, who's an avid horsewoman in Temecula, has created her dream job and we wanna pimp her out! Her new venture is Gaits In the Grapes and with The Crush coming up, we thought we'd give you the option to plan your next horsie outing! After all, what's better than a visit to Temecula? You can enjoy great riding, great wine, and we're told South Coast Winery & Resort is on the list of visiting areas ... you know they have a spa, right? All I will say is, Happy Trails Because You Deserve a Great Getaway!
Sharon Fibelkorn, Horses in Wine Country California Coastal, Equ-Wine Publishing
Be sure to check out our pictures riding in Temecula Wine Country in Sharon's gorgeous coffee table book. On sale now at South Coast Winery Resort and Spa, special discount to GIG riders!
Click on the Trail Rider Button below to plan your ride!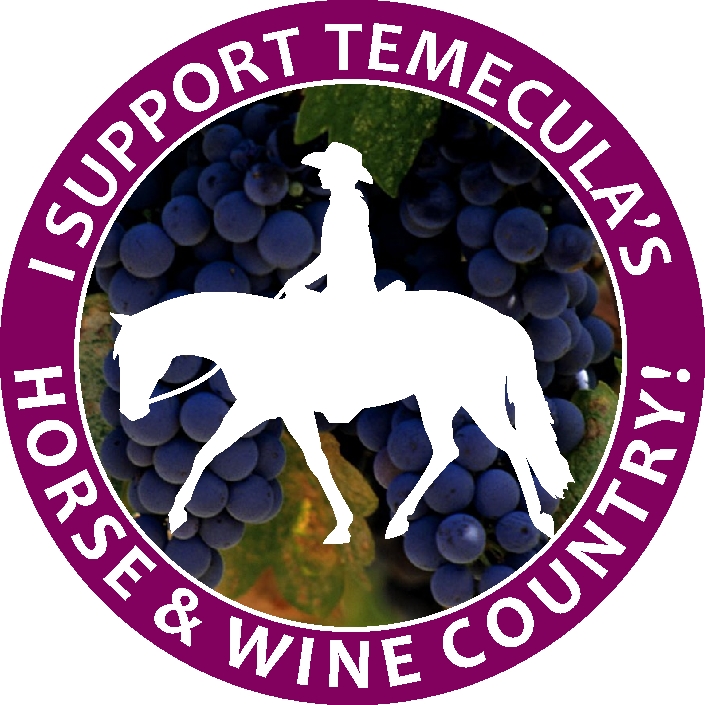 Be sure to "Like" us on Facebook folks, click this Facebook icon to go to our page and learn more about our GIG. On Facebook you can post your comments about your riding experiences with Scott and Juanita.
We believe that comments from our riders are the BEST advertisement we can have!